Home
David B. Lytle designed his Original Soft Pocket Magnetic Frames in 1989 followed by many styles and sizes. Display art and photos on any wall with our Magnetic Paint. Call us with questions or custom orders. 724-352-3747
Free Shipping in the U.S. on some sizes of magnetic paint.
Magically Magnetic Paint - Pre-measured, dry paint additive stirs into your white primer/sealer paint. Magnetic paint mixes white and dries white.
Free Shipping in the U.S. on some styles of magnetic frames.
Magnetic Photo Frames in many popular styles - All popular photo sizes available in many different styles. Magnetically display your favorite photos on a steel surface. Custom sizes available. Call for a quote.
Free Shipping in the U.S. on some styles of magnetic photo booth frames.
Photo Booth Strip Magnetic Picture Frames - Long narrow magnetic sleeve frames made for photo booth strip pictures. Use our special photo insert tool for easy use. One or two insertion tools will take care of your whole party.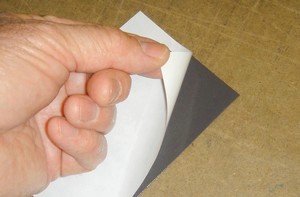 Free Shipping in the U.S. on some sizes of self adhesive magnet.
Self Adhesive Magnet - Our peel and stick magnet sheeting turns any flat item into a magnet and is intended for indoor use. Peel off the paper to reveal the adhesive and stick the magnet on a photo, drawing or newspaper clipping.
Free Shipping in the U.S. on all Rare Earth Magnet Products.
Rare Earth Magnets - The strongest magnets available for use with magnetic paint. Neodymium disc magnets also available with safety caps in six colors.
30 mil White and Black Magnet Sheeting, Cut Sheets & Rolls - Perfect for Car Sign Magnets, vent covers and shelf labels.
Magnetic Shelf Labels - Easily label filing cabinets, warehouse shelves, racks and parts bins with magnetic inventory labels and bar codes. 20 & 30 mil shelf labels, write and wipe labels and self adhesive labels.
Magnetic Car Sign Holders and Car Display Signs - Available in reusable pocket style holders for paper signs, self adhesive magnets to turn any sign into a permanent magnet and blank white vinyl magnet sheets for silk screen printing or vinyl lettering and decals.
Magnetic Vent Covers - Stop a draft with our custom magnetic ceiling or wall vent covers on a steel vent. Choose black or white. Each quality magnetic vent cover is custom cut to your specs.
Die Cutting Your Own Photo Magnets - Perfect for any sport, school and event photographer, die cutting machines used with adhesive sheet magnet offer many years of high-volume cutting, adding a valuable option to your photography services.
Free Shipping in the U.S. on Magnetic InkJet Printer Paper.
Magnetic InkJet Paper - High quality USA made magnetic inkjet printer paper comes in standard 8.5x11 size. Buy in packs or single sheets. Print your own magnetic pictures at home.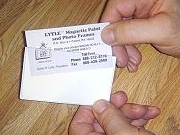 Free Shipping in the U.S. on these magnetic holders.
Magnetic Business Card and Reminder Card Holder - Just like our Soft Pocket Frames but made to hold 2 inch by 3½ inch business cards. Card slips in and sticks to any steel surface. Can be mailed with a card or letter.
Bumper Sticker Mounts - Mount your favorite bumper stickers magnetically or with easily removable self adhesive bumper sticker mounting sheets. Just apply your favorite bumper sticker on our magnet or repositionable adhesive, trim with scissors and stick it where it will do the most good.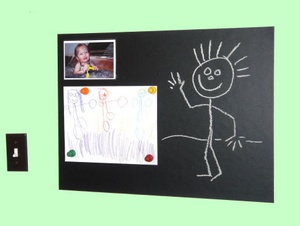 Chalkboard wall panels - Stick one of our magnetic chalkboards on your wall treated with Magically Magnetic paint. Move it or remove it anytime. Or, try a self-adhesive backed chalkboard panel anywhere. Works with ordinary chalk.
Magnetic Emt Alerts - Display life-saving medical info and emergency contact names and numbers in a magnetic holder. Information is private while the alert is highly visible. A must for any home with children and baby sitters or the elderly living alone.
Magnamounts - Use a Magnamount self-adhesive mounting sheet to display your favorite photos and documents magnetically on any surface. Our frames stick to them like they stick to steel.
Screw Tight Skimmer Cover - Close off your skimmer box for repairs or winter shut-down with Screw Tight Skimmer Cover. It easily screws on or off to seal water out of the skimmer box with a rubber O-ring seal.
Welcome to our new website! If you have any questions or feedback, please call us at 724-352-3747 mon-fri, 8-4pm, or click here to contact us. Use the links to the left to navigate our site on your PC or Mac. We are still tweaking the site and some sizes, styles and bulk pricing might not display properly. Please bear with us as we make these changes.
To see the product categories on your Smartphone or Tablet, simply touch the menu icon
at the top left. Thank you for your patience as we move into our new home.